ABOUT TINA POWERS
"Talking with people, animals and guides in another dimension is a way of giving relief and helping people heal. The higher vibrations are love and joy. A reading can feel like a hot air balloon ride to contact our loved ones in the other world, and the lift can assist us in remembering what our soul wanted to learn and experience while here on earth."
Tina Powers is a former news anchor and reporter who now works as a professional medium and receives psychic messages. As she laughingly says: "It's reporting for the other side." Sensitive since childhood, Tina felt the presence of people who had crossed over but the intuitive information became a much more powerful force after she made the decision to leave the harsh reality of television news.
Tina lectures on intuition and holds private sessions with clients at the world-renowned Miraval Resort in Arizona. Her clientele is a veritable "who's who" of people from all walks of life from business leaders to celebrities who span the globe. Her warmth, infectious laugh and incredible ability to help people connect with a higher vibration enables them to lead happier lives.
For more than a decade, Tina worked for KOLD TV, a CBS affiliate in Arizona as a news assignment editor, producer, field reporter and anchor. She has appeared in numerous television commercials and was a morning radio show co-host for two years. Tina also co-hosted the Children's Miracle Network Telethon in Arizona for nine years. Tina has been interviewed on various topics from "the power of intuition" to "how to raise inspired, positive kids". She has also worked in film, television and theatre and is a member of the Screen Actor's Guild.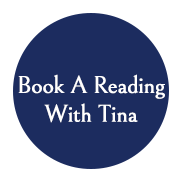 An accomplished oil painter, Tina has recently begun showing her vibrant, colorful pieces. She believes all forms of creative expression are an essential element of our true contentment as human beings.
Tina has authored two books. The first, a children's book called The Land of Imagination helps children believe in themselves and their dreams. The other, Reporting for the Other Side, is a chronicle of her journey from the news media to the spiritual world.